ABOUT
"I hit burnout myself after being active in planting three churches, and I could have used the truth and guidance of Healthy Rhythms Institute years ago. Melding spirituality with current contemporary lifestyles, HRI seeks to safeguard, protect and nurture Christian leaders using an in-depth "how-to" of doing a contemplative, reflective approach."

-Paul Siaki, Johannesburg, South Africa
Our Story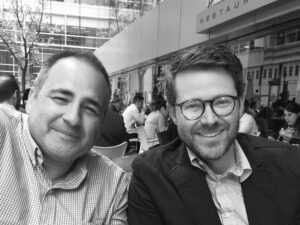 Healthy Rhythms Institute was founded by two friends, Dr Mark Dunwoody, an Irishman and Dr Winfield Bevins, an American who both share a burden to help leaders cultivate healthy rhythms in their life through a unique approach to coaching and coach training that promotes spiritual formation and leadership resilience. Our vision is simple: to make coaching and coach training accessible to anyone, anywhere in the world. 
Together, we have more than four decades of experience training and coaching leaders from around the world. We believe that coaching matters. Because we know that we wouldn't be who we are today without out the faithful men and women who have coached and mentored us over the years. We are merely standing on their shoulders. Because of this, we know deep down in our bones that coaching is essential to be a leader in today's complex world. That is why we want to share the coaching journey with you!
Since founding Healthy Rhythms Institute, we have helped leaders from all over the world unlock their potential, increase their leadership effectiveness, and learn how to coach others in more than twenty nations and six continents, including Asia, Africa, Australia,  Europe, South America, and North America. We have also partnered with networks, denominations, and organizations around the world to offer coaching and training.
Whether you are a person who needs to be coached or you want to become a certified HRI Coach, we can help!