ABOUT
As leaders, we too often focus on external things like vision-casting, strategic planning, busy work, and countless meetings—all at the neglect of our own souls. With lives marked by hurry and distraction, we need courageous leaders who are willing to take time to care for their souls—and the souls of others.
We want to invite you as a leader on a journey to slow down and care for your soul by cultivating healthy rhythms, which are essentially holy habits that root us in the life of God. Healthy rhythms provide a pathway through which the grace of God transforms us from the inside out and makes us increasingly like Jesus.
We founded Healthy Rhythms Institute to help Christian leaders care for their souls in today's chaotic and uncertain world. We are committed to helping all types of leaders—healthcare workers, business owners, pastors, community leaders, or church planters—go deeper in their faith and walk with Christ. 
"I hit burnout myself after being active in planting three churches, and I could have used the truth and guidance of Healthy Rhythms Institute years ago. Melding spirituality with current contemporary lifestyles, HRI seeks to safeguard, protect and nurture Christian leaders using an in-depth "how-to" of doing a contemplative, reflective approach."

-Paul Siaki, Johannesburg, South Africa
WHAT WE DO:
·      We offer coaching, spiritual direction, & consulting   
·      We offer courses that promote spiritual formation & leadership resilience
Our Story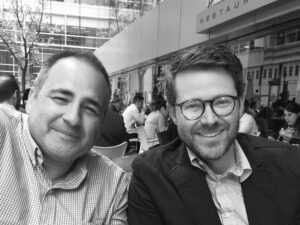 Healthy Rhythms Institute was founded by two friends, Dr Mark Dunwoody, an Irishman and Dr Winfield Bevins, an American who both share a burden to help leaders thrive in today's challenging world by promoting healthy rhythms. 
A few years ago, we shared a lifechanging pilgrimage together in Northern England, traveling to the ruins of Whitby Abbey, to the Durham Cathedral, and to the island of Lindisfarne, where we ended with a retreat on Lindisfarne Island. During this retreat, we felt the Lord calling us to help coach and train leaders in healthy rhythms that promote spiritual formation and leadership resilience.
Since founding Healthy Rhythms Institute, we have helped leaders in more than twenty nations and six continents, including Asia, Africa, Australia,  Europe, South America, and North America. We have partnered with leaders and organizations around the world to offer coaching and training. Let us help you today.
Whether you are in the marketplace, mission field, or the church, we want to help you thrive as a leader!